Dental Implants — Denton, TX
A Truly Worthwhile Investment In Your Smile
Dental implants in Denton are an advanced, modern restorative procedure that provides patients with a more permanent and stronger tooth replacement solution compared to traditional bridges and removable dentures. Implants are small titanium posts that are surgically placed into your jawbone, where they fuse and establish a sturdy foundation for a custom-crafted restoration on top. The best way to learn more about dental implants and if they're right for you is to contact our dental office and schedule a consultation with Dr. Aguilar. We look forward to discussing with you just how much dental implants can be a truly worthwhile investment in your smile!
Why Choose Aguilar Family Dentistry For Dental Implants?
#1 Ability to Replace One, Multiple, or An Entire Arch of Teeth
#2 Partnered with Denton's Best Dental Implant Specialists
#3 Beautiful, Natural-Looking, and Durable Dental Restorations
What Are Dental Implants?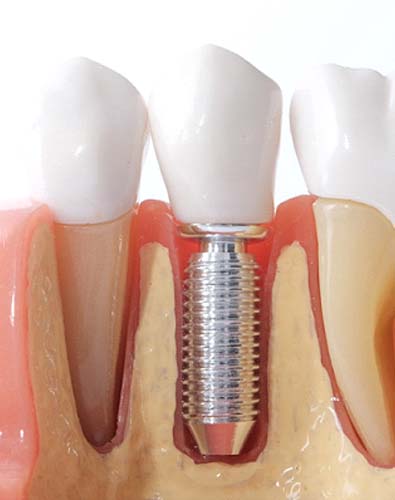 A dental implant is a small, titanium post that is surgically placed below your gum line and within your jawbone. Because titanium is a biocompatible metal, it's able to naturally fuse with your jawbone through a process called osseointegration, providing a replacement for your tooth's root. Once this process is complete, a dental restoration, such as a crown, bridge, or denture, can be secured to these posts, giving them a strength that rivals natural teeth.
4 Step Dental Implant Process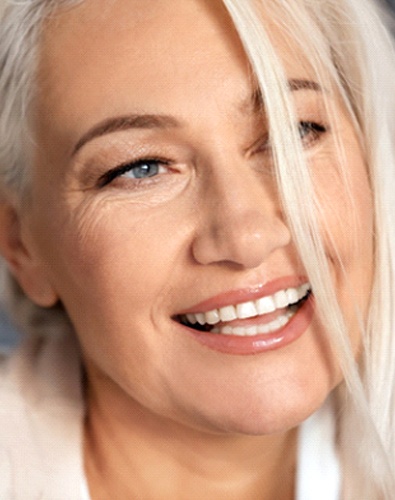 Getting dental implants can take anywhere from 6 months to a year, and you can expect to make multiple appointments in that time. Since implants last longer than other tooth replacements and offer a number of benefits that you wouldn't be able to enjoy with regular prosthetics, the journey is well worth it. There are four main steps to the dental implant process: the initial consultation, the surgery, the osseointegration and abutment stage, and the delivery of the final restoration.
Initial Dental Implant Consultation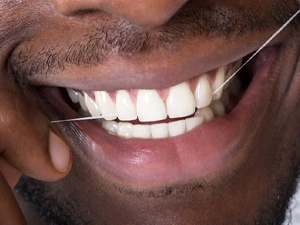 The first question you need to answer at the start of the implant process is: are dental implants right for you? Answering this question is a major focus of the initial consultation. We'll examine your mouth and facial structures via X-rays to figure out if you are currently a candidate for implants or if you might need preliminary work first. If we find that implants are a viable option for you, we can give you a timeline and cost estimates to help you decide whether or not you want to move forward.
Dental Implant Surgery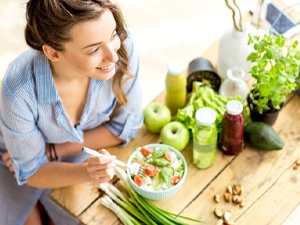 An oral surgeon will handle the placement of your dental implants. They'll plan the procedure carefully beforehand so that each post goes exactly where it needs to be to provide the best possible support for your new teeth without disturbing any of the other structures in your mouth. Once the implants are in your jaw, we'll close the gums and then attach a small protective cap to each post. The cap helps promote soft and hard tissue healing around the implant and protects the main part of the post from plaque and debris.
Dental Implant Osseointegration & Abutment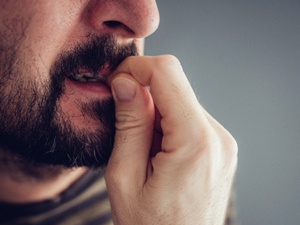 Before you can move on to the final step of the implant process, your mouth needs to undergo osseointegration. That's when the implant posts merges with the jawbone, which is what allows them to act as new tooth roots. It'll normally take about three to six months for osseointegration to complete itself, and once it does a second surgery is needed to attach a piece of metal called an abutment. The abutment is needed to hold a dental restoration in place, so we'll wait until your mouth has recovered from this step before taking the first steps in designing the final restoration.
Delivery of Dental Implant Restoration(s)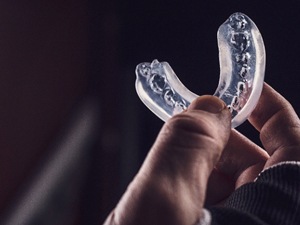 Our office will handle the process of placing the final restoration. First, we create a model of our mouth and send it to a dental lab, where professional ceramists will use it to make a prosthetic that matches your real teeth. The results will be sent back to our office, and we'll call you in for one last appointment. We'll check to make sure that your new teeth are the right size for your mouth and that they match the appearance of the rest of your smile; then we'll attach them to your abutments.
Benefits of Dental Implants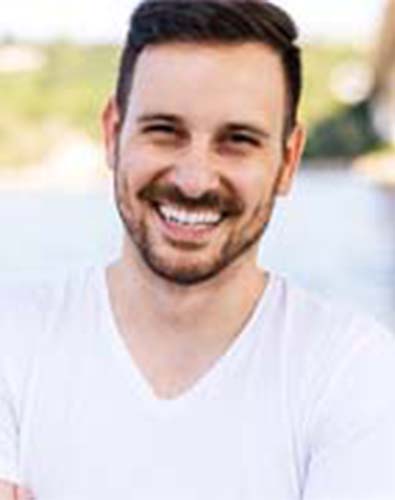 Dental implants are considered the gold standard of tooth replacement – and there's a very good reason for that. They'll allow you to enjoy a healthy, complete, and fully functioning smile once again. Because of their unique placement inside the jawbone, implants provide a wide range of benefits that you can't get with traditional solutions like dentures and dental bridges. Below, you'll learn more about how dental implants in Denton can drastically improve your confidence, health, and overall quality of life.
Day-to-Day Benefits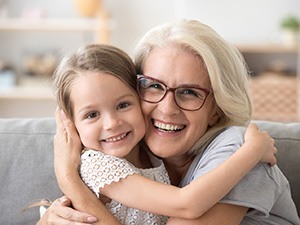 If you have missing teeth, you know from experience how much it can negatively affect your day-to-day life. Well, dental implants in Denton can be a gamechanger by offering the following benefits:
Restored Bite Strength. Since dental implants replace the entire structure of a missing tooth, they provide you with a stronger bite and more stability. As a result, they're able to withstand the chewing of virtually any food!
Increased Confidence. Unlike dentures, you don't have to worry about your artificial teeth slipping and sliding around your mouth. They'll stay firmly in place and allow you to enjoy a natural-looking appearance.
Easy Maintenance. Caring for dental implants is as easy as caring for natural teeth! All you need to do is practice good oral hygiene and visit your dentist regularly to keep your smile in pristine condition. No special products or tools are necessary!
Health Benefits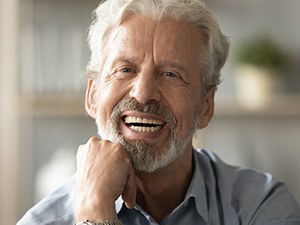 Aside from enhancing your appearance, dental implants in Denton offer several incredible health advantages. Some of those include:
Preserved Jawbone Density. Because dental implants provide the jawbone with internal support, it helps prevent its deterioration. Also, it maintains the face's overall shape for years to come.
Protection for Natural Teeth. It's incredibly common for natural teeth to shift after tooth loss. Luckily, dental implants serve as a placeholder to ensure every tooth stays exactly where it belongs.
Better Overall Health. Studies have discovered a correlation between tooth loss and an increased risk of several diseases. Since dental implants closely resemble natural teeth, it's reasonable to assume that they can help lower such risks.
Long-Term Benefits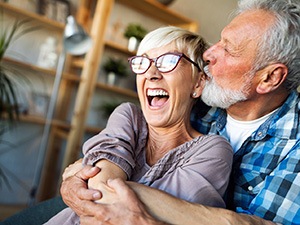 By choosing to get dental implants in Denton now, you can expect to reap many short-term and long-term benefits. This modern tooth loss solution will help you for years to come with these advantages:
High Success Rate. Even 20 years after they've been placed, dental implants have an impressive success rate of about 95 percent.
Youthful Appearance. Dental implants stimulate blood flow in the jaw, helping prevent the sunken, aged look that often comes with tooth loss.
Long Lifespan. Unlike dentures and bridges, you don't have to worry about replacing your dental implants every few years. They can last decades without needing replacement!
Who Dental Implants Can Help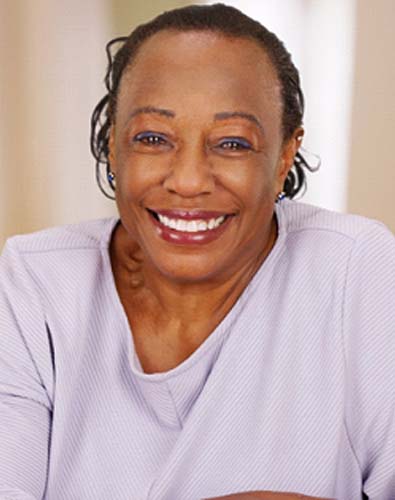 The best way to find out whether dental implants are the right option for you is to visit our dental office for a consultation. During your appointment, we'll take X-rays and conduct a visual inspection of your mouth to determine whether you require any preparatory procedures and what type of implant(s) would be best for your situation.
Missing 1 Tooth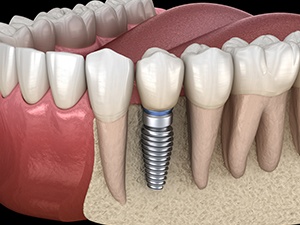 For our patients who are missing a single tooth, we can place one dental implant that will hold a customized crown. This will help keep your surrounding natural teeth from drifting out of alignment as well as restore your appearance.
Missing Multiple Teeth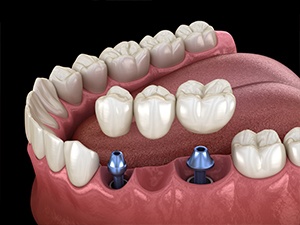 Instead of altering your natural surrounding teeth to make room for a traditional bridge, we can place two dental implants that can hold an implant-retained bridge. The prosthetic will be directly placed onto the dental implants, preserving your natural pearly whites.
Missing All Teeth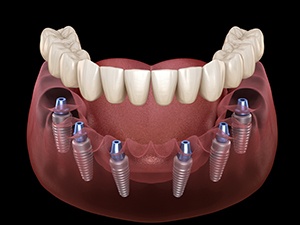 Patients who are struggling with ill-fitting or uncomfortable dentures can have them retained by dental implants to make them stronger and more stable. Dentures combined with implants eliminate embarrassing slipping and shifting while also bringing back much more bite strength.
Understanding the Cost of Dental Implants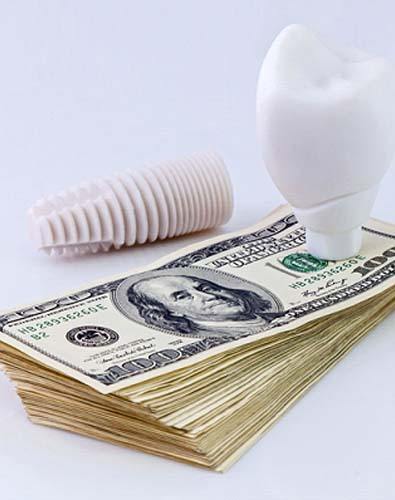 When patients with missing teeth hear about all of the benefits that dental implants have to offer, they are often eager to begin the tooth replacement process. That is, until they hear about how much dental implants cost. At Aguilar Family Dentistry, we don't want to push unnecessarily expensive treatments on patients. That's why we wouldn't recommended dental implants unless we believed they were a truly worthwhile investment in your smile! The dental implant procedure is different for each patient depending on their unique needs. Some of the factors that can influence the cost of the treatment include:
What type of restoration you require
How many implants you need to have placed
Whether you require sedation during surgery
We'll walk you through the treatment timeline and cost factors during your initial consultation so you know exactly what to expect. Our team will be more than happy to answer any questions you may have, we'll educate you about the procedure you're looking into, outline the financial factors involved, and offer guidance whenever it's needed.
Types of Dental Implants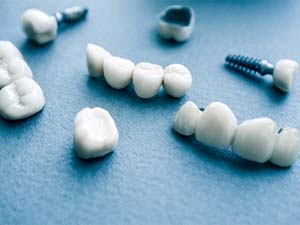 The cost of dental implant treatment will depend mainly on how many implant posts you'll need to rebuild your smile. For example, a single implant restored with a crown will cost less than a bridge or partial denture that requires two implants. Similarly, an implant-retained denture that takes four to six implants will cost even more. There are also different manufacturers and placement techniques that could impact the overall price. During your consultation, Dr. Aguilar will go over all of these factors and come up with a personalized cost estimate.
Are Dental Implants Worth the Investment?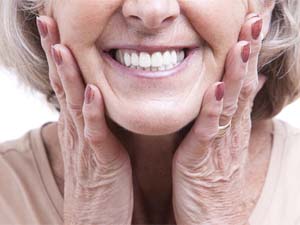 Definitely! While dental implants might be pricier up front, they can actually save you money in the long run. As long as you take care of them, they can last for 30+ years, possibly even for the rest of your life. You'll save money (and time) that you would otherwise spend getting a traditional denture or bridge repaired/replaced. Plus, dental implants offer unparalleled oral health benefits, like keeping your jawbone strong. Most of our patients with dental implants have found them well worth the price.
Does My Dental Insurance Cover Dental Implants?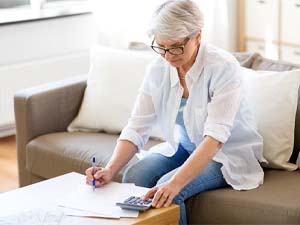 Many dental insurance policies don't directly cover dental implants, but they may mitigate the cost of other portions of your treatment, like your restoration. Our practice welcomes most major PPO dental plans, including Cigna, Delta Dental, and MetLife. We also accept third-party financing through CareCredit, which offers several different plans that often come with low or no interest.
Maintaining & Caring for Your Dental Implants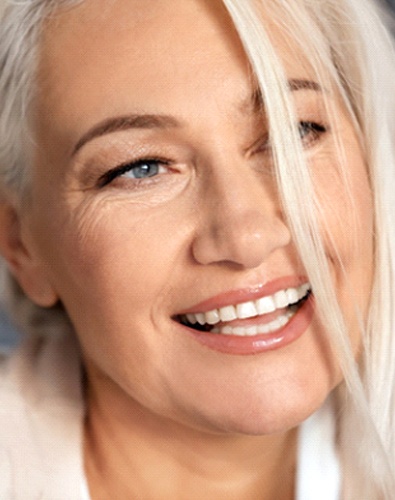 In recent years, dental implants have become the ideal solution for missing teeth. That's mainly because they're able to keep your smile complete, strong, and healthy for a lifetime. Of course, that's only the case if you take proper care of them. If you want your newly rebuilt grin to stay in optimal condition, you need to take the right steps to keep them firmly in place. To learn how to properly maintain your implants, continue reading or give our office a call today!
Make Oral Hygiene a Priority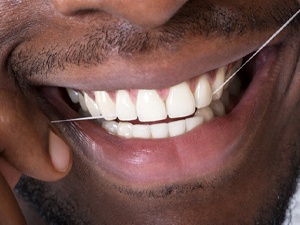 Just because dental implants can't get cavities doesn't mean you can slack off on your oral hygiene. Failing to take proper care of your teeth and gums can still lead to numerous oral health issues, including gum disease. Luckily, you can easily prevent those problems by brushing your teeth twice a day, flossing daily, and rinsing every day with an ADA-approved mouthwash.
Eat a Healthy Diet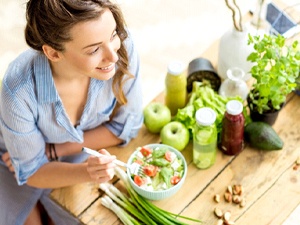 Even though you can eat almost anything you want with dental implants, it's incredibly important that you avoid overindulging in sugary, starchy, and highly processed foods. Doing so can be problematic, causing serious issues for your implants. You should aim to maintain a healthy diet full of nutrient-rich foods, like fruits, vegetables, dairy products, lean proteins, and whole grains.
Break Bad Habits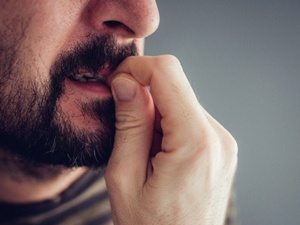 Do you smoke, bite your fingernails, chew on pens or pencils, eat ice, or use your teeth as tools? While these habits may seem harmless, they can cause serious damage to your smile. That's why it's best to kick these habits to the curb as soon as you can. You can keep some sugar-free gum in your pocket for times when you feel tempted to chew on a non-food item. If you need help quitting smoking, our team can provide you with the support, resources, and guidance you need to make the feat as easy as can be.
Protect Your Dental Implants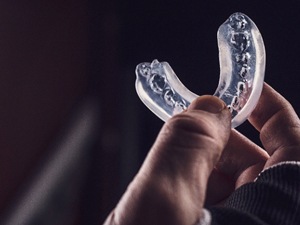 If you regularly play sports or grind your teeth at night, you should ask Dr. Aguilar about a custom-made oral device. An athletic mouthguard can keep your teeth safe should you sustain a blow to the face. Meanwhile, a nightguard can protect your enamel from the force of grinding your teeth at night. Both oral appliances are capable of protecting your smile against extra wear and tear.
Schedule Regular Dental Checkups
Aside from good oral hygiene, you must visit Dr. Aguilar every six months for a checkup and cleaning. These preventive visits are essential to ensure no problems are developing in your mouth. With early intervention, you can avoid needing more costly and invasive procedures down the line. It'll help you enjoy your new and improved smile for much longer!
Dental Implant FAQs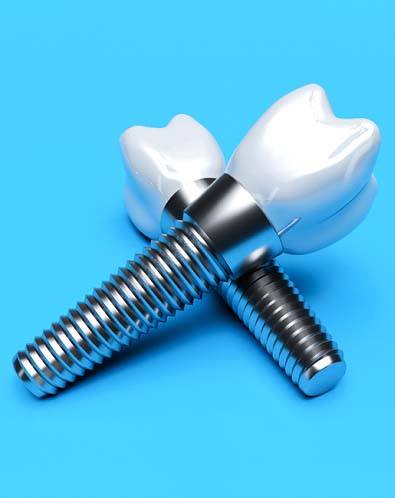 Is there anything else you want to know about dental implants? During your first consultation with Dr. Aguilar, we encourage you to share anything that's on your mind, from the most glaring question to the smallest concern. There's nothing wrong with gathering as much information as possible before you make a choice for your oral health! In the interest of possibly saving you some time, we have collected some of the most common questions we've received from patients and answered them below.
How Long Will My Dental Implants Last?
That depends largely on you! Dental implants last for decades on average, but they still require care and maintenance. Fortunately, there are no special cleaning products you have to buy or any sort of complex oral hygiene regimen you need to learn – the same habits that keep your natural teeth healthy (brushing, flossing, and so on) will also go a long way towards keeping dental implants safe. Don't forget to return to our office at regular six month intervals so that we can check your implants for damage and the surrounding gum tissue for potential signs of infection.
Will People Be Able to Tell That I Have Dental Implants?
Some people are worried that it will be obvious that they have a dental implant, but the truth is that most people are unable to tell the difference unless they're told what to look for. The implant post won't be visible at all, as the top half will be covered by your restoration and the bottom half will be underneath the gums. As for the restoration itself, not only will it be designed to resemble your teeth as closely as possible, but it will also be firmly anchored in place, so there will be no slipping while you're talking with your friends or eating at a restaurant.
What Can Cause Dental Implants to Fail?
Most implant failures are linked to either a form of gum disease called peri-implantitis or failed osseointegration. Risk factors for failure include:
Diabetes and other autoimmune disorders that leave your mouth more susceptible to infection
Untreated gum disease
A lack of bone density in the jaw
The use of certain medications
Smoking
Habitually grinding your teeth
Your dental history, medical history, and lifestyle will all be reviewed at your initial dental implant consultation so that we can account for potential complications ahead of time.
Is There Anything I Shouldn't Eat with Dental Implants?
Dental implants need time to fuse with the jawbone, so you won't be able to use them to chew right away; it's better to eat soft foods like yogurt and oatmeal during the initial recovery period. Afterwards, you can eat anything you want as long as you remain cautious around the hard or sticky foods that could damage your implant; after all, as durable as they are, your dental implants are still vulnerable to cracks, chips, and other types of damage in much the same way that your natural teeth are.