Veneers – Denton, TX
Correct Multiple Cosmetic Imperfections in Your Smile
Maybe your smile needs a makeover, but you don't know which cosmetic dentistry treatment would be best for you. If you have several dental flaws that need fixing, then the variety of services available can feel overwhelming. At Aguilar Family Dentistry, we want to make that choice simple for you by offering a service that can correct multiple cosmetic imperfections in your smile at the same time – veneers. If you've been dreaming of having a beautifully perfect smile but aren't sure where to start, call us to schedule a consultation!
Why Choose Aguilar Family Dentistry for Veneers?
Treatments Fully Customized to Meet Your Unique Needs
Friendly, Honest Dentist & Team
High-Quality, Durable Materials Used
What Are Veneers?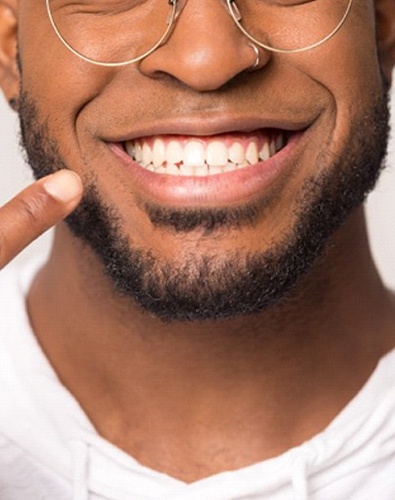 A veneer is a thin porcelain shell that can be cemented to the front of a tooth. Once in place, it basically acts as a little "mask" for your tooth, instantly concealing several aesthetic flaws simultaneously. As one of the most versatile cosmetic dentistry treatments we offer, veneers can fix a wide variety of imperfections, including:
Cracked or chipped enamel
Disproportionately small or oddly shaped teeth
Stains that aren't responsive to teeth whitening treatments
Minor yet noticeable gaps between the teeth
Slightly rotated or crooked teeth
The Process of Getting Veneers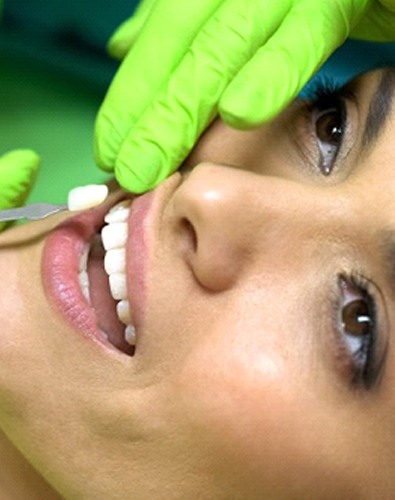 The veneers process begins with a consultation with Dr. Aguilar. During this visit, you'll talk to him about the goals you have in mind for your smile. If he recommends veneers as the best way to achieve them, then you can go ahead and schedule the first of the two appointments it will take to get veneers.
At the first appointment, our team prepares your teeth that will receive veneers by removing a thin outer layer of enamel; this way, the veneers won't appear bulky compared to the rest of your smile. We then capture impressions to make a model of your teeth, which is sent to a partnered dental lab. While they begin creating your veneers, we can place temporaries to protect your teeth. You'll return a few weeks later once the veneers have arrived from the lab. After making any final adjustments, all that's left to do is bond your veneers into place and let you enjoy your new and improved smile!
Benefits of Veneers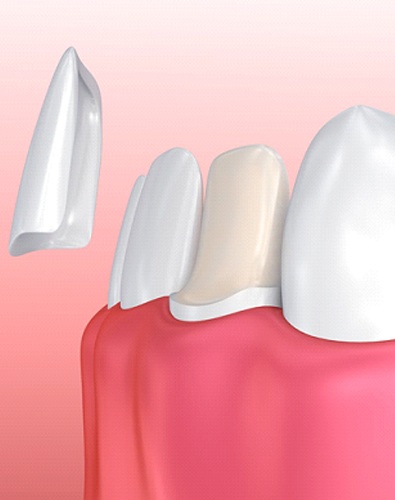 These are some of the reasons why patients love veneers:
Every veneer is custom-made to mimic or improve the size, shape, and color of your natural pearly whites.
Porcelain is more resistant to stains than tooth enamel.
Veneers generally are able to last for a 10-15 years with minimal maintenance.
Compared to dental crowns, which require removing more enamel, veneers are a more conservative treatment.
Are Veneers Right for Me?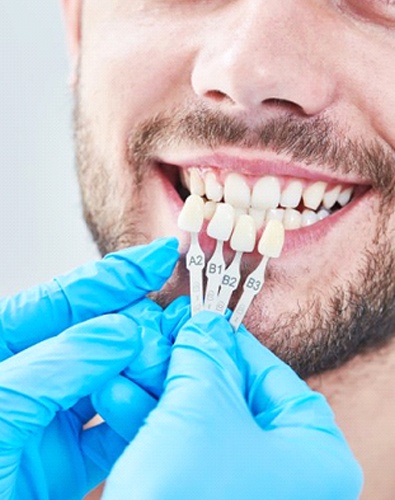 If you want to improve your smile but don't know where to begin, it's worth looking into veneers and finding out whether they're right for you. In most cases, veneers are ideal for correcting cosmetic issues in otherwise healthy teeth. Oral health problems like cavities and gum disease will usually need to be addressed prior to placing veneers.
Of course, the best way to find out if you're a good candidate for veneers is scheduling a consultation with Dr. Aguilar. After examining your mouth, he can determine whether veneers are the best way to attain the gorgeous grin you deserve!
Veneers FAQs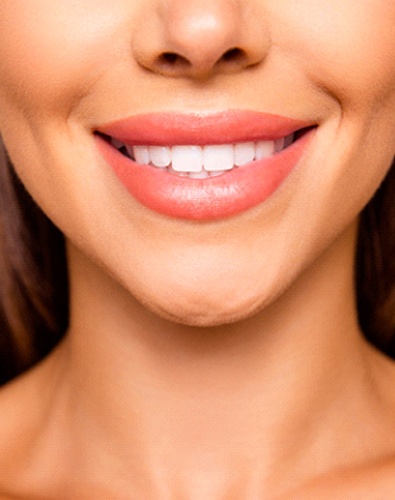 After reading through the above information, you now know about everything from the process of getting veneers to the benefits they come with. However, if you still have a few questions on your mind, we're here to help! To make finding the answers as seamless as possible, we've responded to some FAQs below. If you would like to schedule your initial consultation or would simply prefer to speak directly with our team, don't hesitate to get in touch.
Are Veneers Permanent?
To ensure your veneers aren't obtrusive or obvious in any way, a layer of enamel is removed from your teeth before they are placed. Although the amount is minimal, your teeth will no longer look aesthetically pleasing on their own. Therefore, veneers are considered permanent. That's why our team goes above and beyond to meticulously craft your permanent set to perfection. With that being said, they can be replaced if you desire to change up their appearance in the future for any reason.
How Should I Care for My Veneers?
Although veneers are stain-resistant and cavity-resilient, it is still important to care for your smile. After all, your underlying teeth are still vulnerable to decay and conditions like gum disease can develop without proper care. Therefore, it is of the utmost importance that you:
Brush your teeth for two minutes at least twice a day.
Floss daily.
Attend your dental checkups and cleanings every six months.
Wear a nightguard if you grind or clench your teeth.
Quit poor dental habits, like chewing on ice and using your teeth as tools.
Use non-abrasive products (to avoid scratching or dulling the porcelain).
Rinse with mouthwash regularly.
Does Getting Veneers Hurt?
If you are hesitant to move forward because you're fearful the procedure will be painful, you'll be happy to know the entire process entails little to no discomfort. Not only is a numbing agent typically used during the procedure itself, but you will be given an extensive list of aftercare instructions to ensure to remain comfortable even after you leave our office.
What Should I Do If One of My Veneers Comes Off?
Although rare, it is possible for one of your veneers to come off accidentally. Priority number one is not to panic. Instead, place the veneer in a clean plastic bag and contact our office. From there, we can schedule a visit with our team to get your smile back in tip-top shape. Until then, you should exercise caution with hot and cold foods and beverages, as you may experience some sensitivity. It is also crucial that you don't attempt to remedy the situation by gluing it back in place on your own. This can significantly damage your veneer and have negative repercussions on your oral health.