September 1, 2022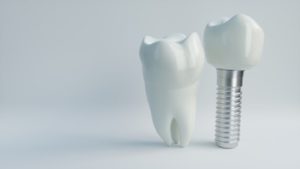 Boasting an impressive success rate of over 95%, dental implants are game changers when it comes to tooth restoration. They can perfectly restore missing natural teeth in terms of appearance and functionality and can last for several years under optimal circumstances. That said, we live in an imperfect world and there are certain things that cause dental implants to become loose and eventually fail! Keep reading to learn more from your dentist about what causes this to happen, along with how you should address the situation.
Common Reasons for Dental Implants Becoming Loose
Even though dental implants are surgically placed into your jawbone, they can still become loose for a variety of reasons such as:
Osseointegration failure – Osseointegration is the necessary process in which your implant fuses with your jawbone; but this process can sometimes be disrupted! Sometimes the body's natural healing ability is impaired, or the implant is placed under excess pressure. Other times, the implant is placed in an area with insufficient bone density. In any case, if the titanium post of the implant cannot fuse with your jaw, your implant will inevitably loosen and fail.
Infection – Another common cause for implants becoming loose is infection. Peri-implantitis is an infection similar to gum disease that attacks tissue surrounding the implant. The gums become inflamed, compromising the implant's support.
Overloading – This occurs when a freshly placed implant is subjected to high amounts of pressure that inhibits osseointegration. This often happens when patients receive their false teeth simultaneously with their implant posts. It can also happen simply due to the implants being disturbed during the healing period.
Loose or poorly made prosthetics – It's not uncommon for implants to fail due to the prosthetics themselves; whether it's a loose screw, old cement, daily wear and tear, or poor fitting in the first place.
How You Should Address a Loose Dental Implant
If you suspect that you have a loose implant, you shouldn't hesitate to contact your dentist; it's not something that will correct itself! They'll be able to perform a thorough examination of your mouth in which they look for signs of infection, inflammation, and loosening or damage. After assessing the situation, they can then determine an appropriate course of action; in some cases, the restoration can simply be refitted or replaced as necessary. But if the problem lies within the surrounding tissue, additional treatment steps will likely be required. In most cases, another implant can be placed after the area has healed.
Your dentist is an expert on dental implants, meaning that if you suspect your implant is loose, visiting them is your best bet to ensure that your smile isn't in jeopardy!
About the Author
Dr. Jonathan Aguilar received his dental doctorate from the Texas A&M College of Dentistry and has proudly served patients and families in the Denton community for several years. His practice is pleased to offer many available services including dental implants. If you're concerned about a loose dental implant or would like to arrange a visit, don't hesitate to contact Dr. Aguilar through his practice's website or over the phone: (940) 566-5332.
Comments Off on What You Should Do If Your Dental Implant Feels Loose