November 4, 2022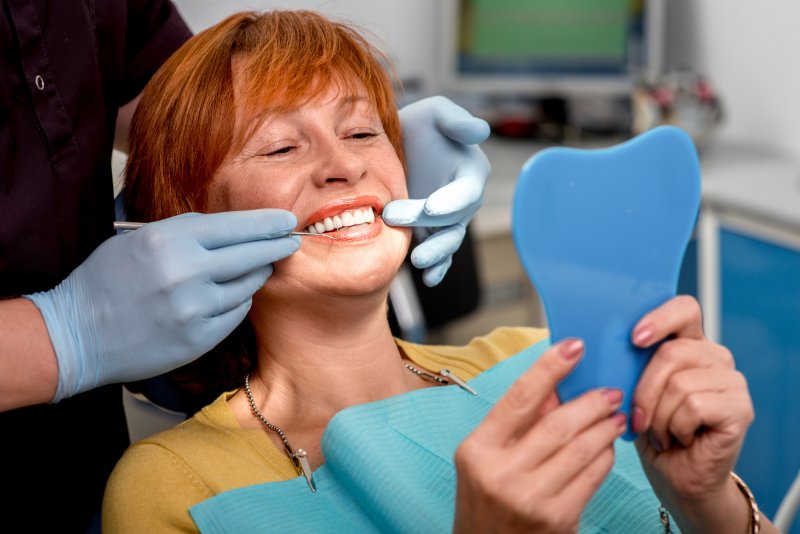 If you have had missing teeth, you are aware of how it can affect many aspects of your life, from your confidence to the ability to eat your favorite foods. Conversely, there is great appreciation when a complete, fully functional smile is restored with dental implants! But how long can you count on your rejuvenated smile? Here's all to know about the lifespan of dental implants and what you can do to maximize their longevity!
How Long Do Dental Implants Last?
Dental implants are considered a permanent tooth replacement option, but this doesn't mean that they will last forever. However, they can be very long-lasting and typically have a lifespan of 25 years or more with proper care. This depends on several different factors:
Gum health— An accumulation of plaque can lead to periodontal (gum) disease, which can weaken your tooth replacements. This condition, called peri-implantitis, is the leading cause of dental implant failure. This infection in the gums is often the result of bad oral hygiene and will destroy the connective tissues that help hold the implants in place.
Maintenance— Overall healthy oral hygiene practices are essential to the longevity of your restorations. By maintaining a consistent routine, you will ward off any bad bacteria that can break down your oral health, thus affecting your implants long-term.
Overall health— Smoking and tobacco use can greatly impact the lifespan of your dental implant. They can interfere with blood flow and make it hard to fight off any infections. Stress can also lead to bruxism (teeth grinding), which can wear down your implants.
How Can You Maximize the Lifespan of Dental Implants?
As previously stated, dental implants can last throughout your life. What makes them so long-lasting? Unlike other tooth replacement options like dentures, they replace the entire structure, including the roots! This unique feature gives dental implants unmatched stability since they have a firm foundation in your jawbone. Yet, they do require attentive care. Here are some tips to get the most out of your implants:
Maintain Good Oral Hygiene: Even though your replacement tooth isn't susceptible to decay, the tissue around it is more likely to develop periodontal disease than the gum tissue around your natural teeth. Regular brushing and flossing are a must in order to keep your implants in good shape for a long period of time.
Visit Your Dentist: Your biannual checkups and exams are incredibly important for the longevity of your implants. They help to keep your oral health in top condition, as well give your dentist the opportunity to check for any problems that need to be addressed before they begin affecting your dental implants (like teeth grinding).
Avoid Smoking and Tobacco: Nicotine buildup from smoking negatively influences the blood supply to your gums. As stated above, this increases your chances of dental implant failure and is often a huge contributing factor when an implant isn't successful.
With great oral habits and visiting your dentist regularly, you can enjoy your complete smile for years to come!
About the Author
Dr. Jonathan Aguilar and his team at Aguilar Family Dentistry have served Denton and the surrounding areas for over 40 years. With a 5-star rating on Google, our goal is to help you achieve and maintain a beautiful, healthy smile! We can help you with any of your dental restoration needs, including dental implants. If you would like to schedule a consultation or need assistance with your tooth replacement, contact us through our website or call (940) 353-6444.
Comments Off on What Is the Expected Lifespan of Dental Implants?