January 23, 2023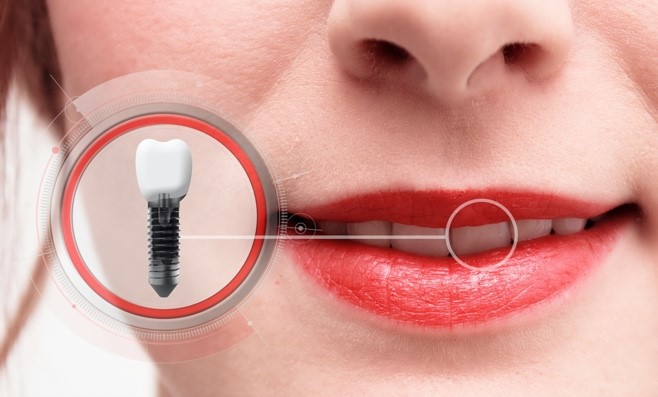 Your front teeth are the most visible out of all of the teeth in your mouth, so when you're missing one, it becomes very obvious. This means that you need a strong tooth replacement option that looks natural. Dental implants are an excellent solution for missing teeth, but do they work well when replacing front teeth? Absolutely! Continue reading to learn more about the dental implant process and who makes a good candidate for the procedure.
What Is the Process for Getting a Front Tooth Dental Implant?
If you haven't already lost your front tooth, the first step would be to have your troublesome tooth extracted. After this, the area will take a few months to heal. This allows for the bone to fill in and solidify to the point that it is more likely to support an implant successfully.
Next, a screwlike dental implant is precisely placed into the jawbone. The implant will need some time to fuse with the jawbone in a process called "osseointegration." If the bone doesn't have adequate time to densify, it is more likely that you will experience a dental implant failure. During the osseointegration period, your implant is covered by a small button.
After a few months of healing, your implant will have fused to the bone and will be ready to support your new replacement tooth. Your dentist will place an abutment, or post, into the implant. A crown will be made and attached to your abutment, leaving you with a natural-looking, strong replacement tooth.
Am I a Good Candidate for a Front Tooth Dental Implant?
There are a variety of reasons why a front tooth dental implant could be right for you, including the following situations:
You are missing your front tooth
You have a front tooth that is loose
Your front tooth is severely cracked or broken
Your front tooth is infected
Most healthy adults are able to get dental implants. Here are some characteristics of a good dental implant candidate:
Excellent Overall Health: Placing dental implants is a surgical procedure, so it's important that you're in good enough health to undergo a minor surgery.
Great Oral Health: Cavities and gum disease can increase your risk of dental implant failure. You will need to have issues like these addressed ahead of time.
Adequate Jawbone Density: It's essential that your jawbone's strong enough to support dental implants for your treatment to be successful.
If you have preexisting oral health issues, you may still be able to get dental implants. Many patients need to complete preliminary treatments, like gum disease therapy or bone grafting, before getting dental implants.
If you're missing your front tooth, a dental implant is likely a good option for you! By scheduling a consultation with your dentist, you can get on a path toward a complete smile again.
About the Author
Dr. Jonathan Aguilar earned his dental doctorate from the Texas A&M Health Science Center Baylor College of Dentistry. Throughout his career, he has worked in a variety of dental settings, including the corporate world, a non-profit healthcare clinic, and private dental offices. Currently, he is proud to be serving the Denton community. For more information on dental implants or to schedule a consultation, visit his website or call (940) 566-5332.
Comments Off on Can a Dental Implant Replace One of My Front Teeth?